Foaming Machine

Coir Mattress Making Machine

Polyurethane Foam Cutting Machines

Coir Mattress Machines

Mattress Machines

Polyurethane Foam Making Machines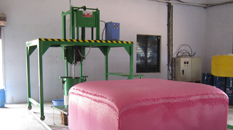 Vertical Foam Cutting Machine : VCM- 100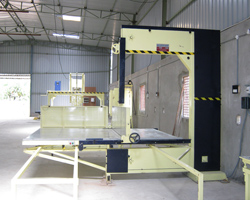 The Vertical foam cutting machine are made to cut the foam vertically. Our machine had the capacity to cut the pu foam and generate the foam Cutting of 5mm with full dimension of 6'x3'x5mm. The machine had permanent cutting guide for precision and high cutting speed. The machine has full all round performance to cut rebonded foam , rigid foam ,memory foam , viscous foam , Fire retarded foam etc. very smoothly.
Foam Cutting Process :
The pu foam blocks which are produced by the foaming machine are to be trimmed With their sides on the Vertical Foam Cutting machine. The vertical foam cutting machine has space to cut the 7' x7' foam block at a single time And it is first time introduced in India the Permanent cutting guide to yield the high Accuracy at high speed. After trimming its one side the block is moved and its other Sides are also trimmed to has smooth finish of the foam block.
Prime Features of the Machine :
India's first Vertical cutting machine which guarantees to cut 5 mm thickness and all high density rigid foam , rebonded foam at high accuracy.
Latest introduced permanent cutting Guide on cutting section of the table.
35% more cutting efficiency compared to other vertical foam cutting machines.
Maximum foam Slitting height of 1600 mm , highest in the industry.
Aluminum table top for smooth handling of the foam block.
Construction and dimensions:
| | |
| --- | --- |
| Space required | 5 meter x 4 meter x 4 meter ( height ) |
| Power required | 2 h.p ( 1.5 kw.) 440 volt 50 Hz/ 60 Hz |