Foaming Machine

Coir Mattress Making Machine

Polyurethane Foam Cutting Machines

Coir Mattress Machines

Mattress Machines

Polyurethane Foam Making Machines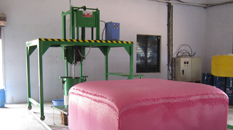 FOAM MATTRESS MAKING MACHINES
Allied Tech is well equipped with the plants for manufacturing foam mattresses and coir mattresses.
Foam mattress making machines
are designed to produce foam blocks and cutting them in circular, horizontal and vertical manner. To produce a foam mattress, foaming machines are required to mould a foam block with either manual or automatic systems. After this procedure, foam blocks are shaped with the help of cutting machines. The three types of
foam cutting machines
alter the foam blocks into the shape of mattress. It has the ability to cut the thickness of the block and large quantities in a go, because of the powerful vacuum. Allied Tech consists of complete plant of
foam mattress making machines
that are integrated with latest technology.
FOAM MAKING MACHINERY
One complete plant of
foam making machinery
is required to manufacture foam blocks through three highly acknowledged processes. Max continuous foam process, Batch foaming and rebounded foam plant are the latest methods of production. Advance techniques in machinery enhance the overall quality of foam. The machinery is charged with Toulene-di-isocynate, Polyol, methlene chloride, stannous octane, Amine and Silicon; which results in the most advance chemical reaction. All these chemicals are feeded by the imported chemical pump to the mixing head. This new technique is designed by Allied Tech to yield the best quality foams that are valued best in international markets as well. Our
foam making machinery
can produce foam with the density of 9 kg to 50 kg per cubic meter.