Foaming Machine

Coir Mattress Making Machine

Polyurethane Foam Cutting Machines

Coir Mattress Machines

Mattress Machines

Polyurethane Foam Making Machines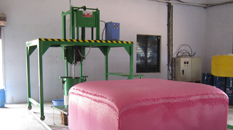 Horizontal Foam Cutting Machine : HCM- 100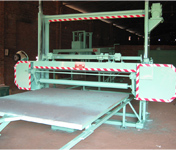 The Horizontal cutting machine are made to cut the foam horizontally. Our machine had the capacity to cut the pu foam and generate the foam Cutting of 1.5mm with full dimension of 6'x3'x1.5mm. The machine had its pressurized roller on cutting section of the blade which enhances the cutting of high density foam with much precision and a high cutting speed. The machine had all round performance to cut the foam , rebonded foam , rigid foam and hard rubber sheets with fully automatic mode.
Foam Cutting Process :
The pu foam blocks which are produced by the foaming machine are to be trimmed With their sides on the Vertical Foam Cutting machine and after cutting the foam blocks These blocks are put on the Horizontal table of the Horizontal foam cutting machine . The machine had the cutting capacity of at least 2 blocks of 916mm x 1832mm. After cutting the top side of the block the blocks are reversed to their bottom side up, Resulting the less wastage of the foam in the foam block. Now setting the cutting Angle on the machine , we start to cut the desired thickness of the foam. The machine Operates automatically after putting the command in to The P.L.C (Programmable Logic control ) , getting the desired foam thickness.
Prime Features of the Machine :
India's first Horizontal cutting machine which guarantees to cut 1.5mm thickness and all high density rigid foam , rebonded foam automatically.
Unmatched heavy duty cutting Guide on cutting section of the table.
Fully Automatic cutting operations with touch screen and P.L.C.
Maximum foam Slitting height of 1420mm , highest in the industry.
Automatic Motorized blade sharp system at both sides of the blade.
Construction and dimensions:
| | |
| --- | --- |
| Space required | 5 meter x 3 meter x 5 meter ( height ) |
| Power required | 8 h.p ( 6 kw.) 440 volt 50 Hz/ 60 Hz |
Specifications :
High Precise cutting of foam ,rebonded foam and rigid foam .
Advanced blade tensioner to enhance the rebonded foam cutting at same time.
Fully Automatic CNC servo motor with drive synchronized with P.l.C.
Capacity of 2 blocks of size 2 meter x 1 meter.
Super feature of advanced memory enhancement in instant power failure.
Best in class technique cutting guide system for high speed cutting.
Smooth Matalon under table wheels for smooth and soundless cutting.
Automatic blade sharing by motorized cup grinders at both side simentounsly.