Foaming Machine

Coir Mattress Making Machine

Polyurethane Foam Cutting Machines

Coir Mattress Machines

Mattress Machines

Polyurethane Foam Making Machines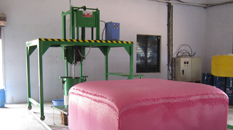 REBONDED FOAM PLANT : RFP- 100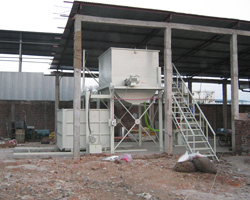 The Rebonded foaming machine is one of the most necessary machine to whom they runs the existing foam manufacturing line , either batch foam plant or continuous foaming plant .
The rebonded means , the rebonding of the foam granules by means of the glue binder and drying it with the steam , providing pressure from the hydraulic press from the top.
The rebonded foaming machine provided by us has cutting edge technology by having all types of adjusting sizes in the machine like 6' x 3' , 6' x 4' and 6' x 6'.
Manufacturing Process :
The scrap foam is shredded with the help of the Foam shredding machine and these foam shredded pieces are feeded directly onto the mixing vessel of the rebounded foam machine.
Now 10% of the total weight of the foam granules are added into them as their binder chemical.
The binder chemical will now mixes with the foam granules for at least 15 minutes and these mixed pieces are poured automatically into the pressing mould and from the top hydraulic press , with moving steam from the bottom releases at the same time and we get desired density of the rebonded foam.
Running densities of the Rebonded Foam in India :
Construction and dimensions:
60 kg./cubic meter - 120 kg./cubic meter.
| | |
| --- | --- |
| Space required | 6 meter x 6 meter x 6.5 meter ( height ) |
| Power required | 8 h.p ( 6 kw.) 440 volt 50 / 60 Hz. |
Specifications:
Most efficient working mould adjustable to 6'x 6' , 6'x 4' and 6'x3'.
Most power efficient rebonded foam plant in the industry.
Automatic feeding of the foam granules from the foam shredding machine to mixing tank.
Top surface quality fine into whole industry.
Mixing capacity of 200 kg. at a single time , which leads to cost reduction in the plant.
Suitable manufactured mini boiler for efficient cost cutting edges into the plant.
Most power efficient foam shredding machine just 20 H.p with the rebonded foam plant.