Foaming Machine

Coir Mattress Making Machine

Polyurethane Foam Cutting Machines

Coir Mattress Machines

Mattress Machines

Polyurethane Foam Making Machines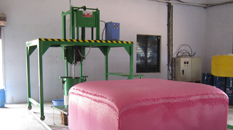 Mattress Making Machines Manufacturers & Suppliers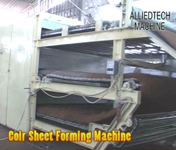 Allied Tech has well-equipped machineries for manufacturing both foam mattress and coir mattress. We are a distinguish
manufacturer and supplier of mattress making machines
. These machines are constructed in such a manner that they are able to generate foam in bulk quantities. Our machines are rigged with high speed and advance mixing head with self-cleaning systems. Separate control panel with advance features of machinery enables all controls very well. It is after the production process, the foam is shaped with the help of cutting machines. The shape is altered keeping in mind the shape of mattresses required. As one of the largest
manufacturer and supplier of Mattress making machines
, we value our clients' requirement in the production process itself. We are also capable of delivering large quantities as per clients' preconditions. A single machine for making mattresses can produce coir with a density ranging from 30kg to 120 kg per cubic meter. Our complete plant is integrated with latest technology and has the maximum capacity to produce 800 kg of rubberized coir per hour. While managing the bulk orders for mattresses, we generate the production and supplying to our clients' at cost-effective prices.
The Coir is a natural product and its use in to the mattress is very good for the health. The coconut shell is broken and we receive the raw fiber from it now this raw fiber is put in to water for easy curling in form of curled rope.

This curled rope give the coir fiber the property of spring like jumping property. Now this curled rope is one of the prime raw material for the rubberized coir machine manufacturers production and it is further sprayed with natural rubber famously known as LATEX having the dry net rubber content in it of 60% DRC.

This natural rubber and natural coconut give away the unique property of good health.
Manufacturing Process :
First the raw material ( Curled Coir ) / Twisted coir is taken to untwisting machine to untwist coir rope and throw out curved fiber in carded form / spring type form. Now this carded fiber is feeded into Sheet Forming Machine , with the help of blower assembly this curved fiber again refined by carding assembly and feeded to conveyor belts to form continuous coir sheet with required width & density.
Next this uniform coir sheet is sprayed automatically of rubber latex with required composition of chemical in it. Now this rubberized coir moves to Continuous heating chamber to dry the water content of latex from it and coir get permenantly bonded with rubber latex. The sheet at end of conveyor get reversed and again sprayed on this side also to dry in heating chamber again.
This process repeated continuously resulting in uniform rubberized coir sheet with particular width and thickness comes out from sheet machine. Next the rubberized coir sheet is cut on pieces of required length, bonded with Putting one upon another having thickness of 2'' inch to 8'' .These bonded sheet are again spraying manually to attain required thickness of rubberized coir mattress/ sheet from hydraulic press which is heated by steam. These mattress are kept in press from 10-15 minutes to attain desired thickness, uniform shape and fine finished.
These mattress are feeded into vulcanizing chamber after cutting of required size i.e. 6 x 6 feet / 6 x 6.5 feet etc. The vulcanizing chamber dries the mattress completely with having hessian cloth strips on it and to attain the best quality rubberized coir mattress. These finished rubberized coir mattress now ready for dispatch. The mattress are covered with designed quilted cover or they are also being supplied to distributors without cover also.
Construction and dimensions:
| | |
| --- | --- |
| Space required ( complete Plant ) | 40 meter x 15 meter |
| Power required ( including All Machines ) | 90 h.p ( 67.5 kw ) 440 volt 50 / 60 Hz. |
Specifications:
Can produce coir mattress density from 30- 120 kg./cubic meter.
Provided with High speed and advanced mixing head with self cleaning.
Conveyor length of 26' which enhance the drying capacity of coir for flexibility.
Separate control panel with Advance features which enable all controls very well.
Most advanced Rubberized coir fiber interlocking system.
Maximum capacity to produce 800 kg. /hour rubberized coir from the plant.
Highest capacity hydraulic press of 18 mattresses at a single time of 2meter x 1meter.