Foaming Machine

Coir Mattress Making Machine

Polyurethane Foam Cutting Machines

Coir Mattress Machines

Mattress Machines

Polyurethane Foam Making Machines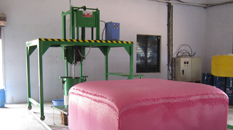 Foam Machinery Manufacturers & Suppliers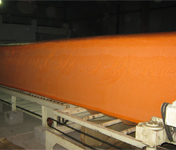 Max Continuous Foaming Machine : CFM-100
The Max Continuous Foaming Machine is the mostly used where the requirement are in huge demand. It is one of the leading way to manufacture the polyurethane foam as if the factories can produce the polyurethane foam at higher capacity of 200kg./minute. The densities which can be produced in this machine are 14kg./cubic meter to 50 kg./cubic meter.
The machine designed by ALLIEDTECH MACHINE is using the super advance machine techniques to enhance the product quality with most relevant mandatory changes in modern time. Our machine hold the base to satisfy the demand of its buyer by producing the outstanding quality polyurethane foam by the machine.
Manufacturing Process :
The Continuous foaming machine is provided with the chemical tanks for namely all chemical like Toulene-di-isocynate , Polyol , methlene chloride , Stannous octane , Amine , Silicon and water with separate color tanks.
Now the calcium carbonate is mixed with the polyol chemical into the mixing tank having capacity of 5000 kg. Now the mixed polyol base is taken as the density formulation base on it we are going to Foam Machine manufacturer. All the chemicals are feeded by the imported high accuracy chemical pump to the mixing head , in between all chemical are controlled with the pneumatic actuator 3 way valve system to control the flow of the chemical towards the mixing head when it is required. All chemicals are calibrated well before their output going towards the mixing head.
The mixed chemical are spread on the chemicals falls plate and then the conveyor start to carry the manufactured foam towards the Block cutting machine . There is single slab stock of the length at least 70' at a single time. Now with help of the Block cutting machine which is installed at the conveyor end cut the block into desired size.
After drying the block for few hours the , Vertical Foam cutting machine trim the block from all sides , then it is put on the Circular Foam Cutting Machine or Car soul Foam Cutting Machine to cut the it into desired thickness.
Construction and Dimensions :
| | |
| --- | --- |
| Space required | 30 meter ( length )x 5 meter ( width) x 6 meter ( height) |
| Power required ( including chemical tanks ) | 55 h.p ( 41.25 kw.) 440 volt 50 / 60 Hz. |
Specifications :
Can produce foam density from 14- 50 kg./cubic meter.
Provided with High speed and advanced mixing head with self cleaning.
Conveyor length of 50' which enhance the drying capacity of foam before cutting.
Two chemical tanks of 1000 liters each with cooling jacket system with the machine.
Separate control panel with Advance features which enable all controls very well.
Most advanced chemical reaction and handling system.
Automatic polyol, T.D.I and M.CL feeding system to the chemical tanks from the barrels.
Advanced Block cutting machine attached with the end of the conveyor.
Chemical tanks provided with temperature control unit and double jacketed.
Capacity of chemical tanks:
Polyol : 5000 liters.
T.D.I : 4000 liters.
M.Cl : 1200 liters.
Water : 200 liters.
S.O : 150 liters.
Amine : 150 liters.
Color : 150 liters. ( 3 tanks made of stainless steel)