Foaming Machine

Coir Mattress Making Machine

Polyurethane Foam Cutting Machines

Coir Mattress Machines

Mattress Machines

Polyurethane Foam Making Machines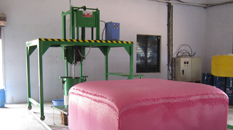 FOAMING MACHINE MANUFACTURERS & SUPPLIERS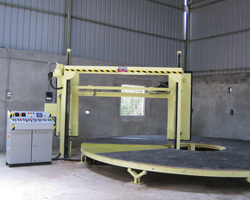 Allied Tech is one of the best
manufacturer and supplier of foaming machines
in India. Our range of machinery consists of three different kinds. One, slab stock or continuous foaming machines produces new foam in large quantities, batch or discontinuous foaming machines and rebounding foaming machines for recycling foam. The production process is carried out with manual or automatic mode. A basic manual machine is meant to produce foams in small quantities. Hence, they can be easily sold in small commercial areas. On the other hand, foams produced using automatic mode results in fair amount of production. This mode is capable of producing at least 3 to 4 tons of foam blocks in a day. Therefore, it is considered to be more power efficient than the latter. Our machinery is embedded with user-friendly features, capable of providing maximum output with low maintenance. We are strongly backed by a team of technical experts and creative engineers who are capable of meeting client's requirements. We value our client's specific areas in the production process itself. Hence, we are able to produce and deliver our innovation solutions in the market. Allied Tech is a trusted name in India because we provide cost-effective solutions while
manufacturing and supplying foaming machines
.
Foam Machinery Manufacturers & Suppliers
The Circular cutting machine also known to be as Rotary Foam Cutting machine or Car soul Foam cutting machine. The Circular cutting machine designed by us is the Most precise cutting machine ever built. Our machine will generate the Cutting of 1.5mm with full dimension of 6'x3'x1.5mm.
Cutting Process :
At
foam machine manufacturers
the pu blocks which are produced by the foaming machine are to be trimmed With their sides on the Vertical Cutting machine and after cutting the blocks These blocks are put on the circular table of the circular cutting machine. The machine had the cutting capacity of at least 8 blocks of 916mm x 1832mm. After cutting the top side of the block the blocks are reversed to their bottom side up, Resulting the less wastage of the it in the block. Now setting the cutting Angle on the machine , we start to cut the desired thickness of the foam.
The machine Operates automatically after putting the command in to The P.L.C (Programmable Logic control ) , getting the desired foam thickness.
Foaming Machine Manufacturers & Suppliers:
India's first Circular cutting machine which guarantees to cut 1.5mm thickness.
Unmatched heavy duty vacuum under cutting section of the table.
Fully Automatic cutting operations with touch screen and P.L.C.
Maximum foam Slitting height of 1420mm , highest in the industry.
Automatic Motorized blade sharp system at both sides of the blade.
Construction and dimensions:
| | |
| --- | --- |
| Space required | 9 meter x 9 meter x 5 meter ( height ) |
| Power required | 23 h.p ( 17.25kw.) 440 volt 50/60 Hz. |
Specifications :
High Precise cutting up to 0 to 10 r.p.m
Advanced blade tensioner to enhance the rebonded foam cutting at same time.
Fully Automatic CNC servo motor with drive synchronized with P.l.C.
Capacity of 8 blocks of size 2 meter x 1 meter.
Super feature of advanced memory enhancement in instant power failure.
Best in class technique vacuum holding system for high speed cutting.
Smooth Matalon under table wheels for smooth and soundless cutting.
Automatic blade sharing by motorized cup grinders at both side simentounsly.