Foam Mattress Making Machine

Coir Mattress Making Machine

Polyurethane Foam Cutting Machines

Coir Mattress Machines

Mattress Machines

Polyurethane Foam Making Machines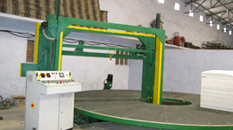 FOAM CUTTING MACHINE MANUFACTURERS

Allied Tech engages in
manufacturing foam cutting machines
for both foam mattress and coir mattresses. Our manufacturing unit consists of experts with detailed knowledge about the technicality of all the machines designed. Our machines are robustly constructed, well-equipped with electronic infrared photo guards and produce less thermic energy. As a result, you will surely experience a safe process of lacerating the foams. Allied Tech stands as one of the
best foam cutting machine manufacturers
as it highly focused with customer satisfaction. We even engage in customizing specifications of
foam Machinery Manufacturers & Suppliers
as per our clients' requirements. We ensure them of our machinery being capable of long-lasting performance with high levels of consistency. We are highly focused on the quality of raw materials involved to manufacture machinery and deliver high accuracy. Keeping all this in consideration, we manage them at cost-effective prices.
FOAM CUTTING MACHINES
Foam cutting machines are specifically designed to tailor out the size of various
foam mattresses Making Machines
and coir mattresses. High quality machinery parts are used to ensure their durability and long-lasting performance. The insertion of band knife into the machinery is left sharp enough to split even the most rigid foams and other raw materials. Its frame is constructed with rigid welded steel, fitted out with rubber and blades. The construction of machine device is completed with tension indicator providing length tolerance among the blades inserted. The speed of
foam cutting machines
is enhanced to lacerate bulk quantities of foam into mattress and coir.