Foaming Machine

Coir Mattress Making Machine

Polyurethane Foam Cutting Machines

Coir Mattress Machines

Mattress Machines

Polyurethane Foam Making Machines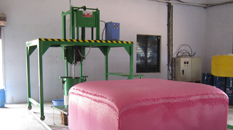 Foam Shredding Machine : FSM- 100
The Foam Shredding Machine are made to cut the foam into small piece also known To be foam Granules. When the foam is produced into batch foaming machine or Either continuous foam machine , we had the scrap foam from it ranging from 5-8 %. Now this scrap foam is utilizes into the rebonded foam and we manufacturer Rebonded foam from the waste foam.
Foam Cutting Process :
The Foam is feeded into the hoper ranging 200 mm diameter and the foam is feeded In to it , the foam shredding machine cut this foam into pieces of 10 mm to 35 mm. The machine had various cutting capacity depending of the different models. Our foam shredding machine can yield 25 kg./hour to 100 kg./ hour capacity.
Prime Features of the Machine :
The machine has capacity to cut p.u foam , rebonded foam , rigid foam , rubber waste and EVA waste.
Most power efficient shredding machine compared to cutting capacity.
High carbon cutting blades to enhance life of cutting blades.
Adjustable cutting size from 10 mm to 35 mm.
Construction and dimensions:
| | |
| --- | --- |
| Space required | 1 meter x 1 meter x 1.4 meter ( height ) |
| Power required | 5 h.p / 10 h.p / 15 h.p / 20 h.p 440 volt 50 Hz/ 60 Hz |