Foaming Machine

Coir Mattress Making Machine

Polyurethane Foam Cutting Machines

Coir Mattress Machines

Mattress Machines

Polyurethane Foam Making Machines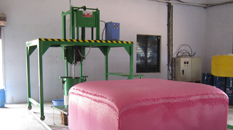 Coir untwisting Machine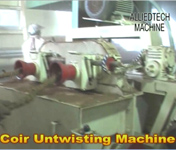 The Coir untwisting machine untwist the Curled rope which is the main raw material for the Rubberized Coir mattress Industry. The wet Fiber is twisted with the machine to gain the flexible property of the natural fiber and to reduce the transportation cost of the raw fiber.

The untwisting machine is also famously known as MultiMate machine for untwisting the fiber.
Operating Process :
The Curled rope is feeded into the machine which is revolving at a medium r.p.m for untwisting the curled rope and this systematic mechanism through the untwisted coir out of the machine and the process repeated continuously.
There are two types of the Models available :
UM - 200( had capacity of 350 kg. / hr.)
UM - 300( had capacity of 500 kg./hr)
Construction and dimensions:
| | |
| --- | --- |
| Space required | 1.5 meter x 1.5 meter x 1.5 meter ( height ) |
| Power required | 11 h.p ( 8.25 kw.) 440 volt 50 Hz/ 60 Hz |